Pricing for the 2021 season (May 1 – October 31)
Last update: February 23, 2021
Note: Our vans are built for 2 people. The minimum driving age is 21.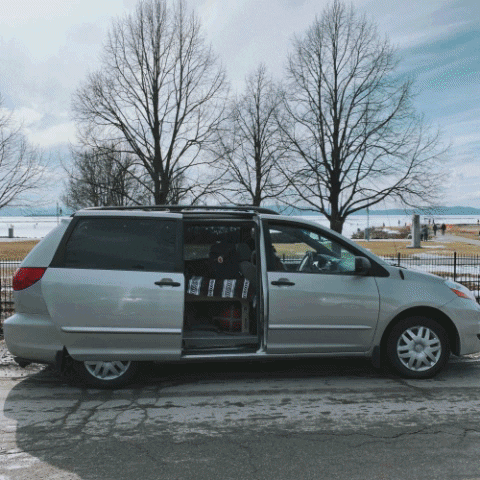 14 days and more
long trips
Includes 250 km per day
Basic kit
Roadside assistance
Extra insurance fees apply
Less than 14 days
5 day rental minimum
Includes 250 km per day
Basic kit
Roadside assistance
Extra insurance fees apply
Notes
Minimum of 5-day rentals during high season (June – September).
If you rent for more than 21 days, the day rate (before taxes) is 112$.
Off-season rental is available upon request.
Read the totality of our terms and conditions here.
For a precise estimate, please request a quote here.
Insurance
The daily rate for all vehicles includes public liability insurance (up until 3M).
The Collisions, Damage and Theft Insurance at 20$ per day + taxes is not included in the daily rate and it's mandatory, unless you already have an insurance policy valid in Québec (proof required).
What's inside the vans
For more information on the Lazy Camper Van experience, please watch the following videos (FRENCH only, for now. English coming soon!). You may also see and read some of our past clients reviews here.
The basic kit (for 2 people) that comes with all our minivans has:
Two camping chairs
Small folding table
Propane stove and one propane bottle
Cooking kit with cutting board, knife, wine opener, salad bowl, tongues, spatula, ladles, can opener, scissors, etc…
Dishes, mugs, glasses, utensils
Pots and pans
Cooler fridge
Sink with faucet
Privacy curtains
Mattress
Cleaning kit with towel, cleaning cloth, sponge, brush, dishwasher liquid…
USB car adapter
Extra options
Full bedding kit with sheets, duvets and pillows (choose if you don't live in Montreal) at 50$ + taxes per rental
This kit includes: 1 full set of sheets, 2 pillows, 1 warm duvet and 1 lighter blanket. *NOTE: if you live in Montreal, we advise that you bring your own sheets and pillows (especially with the COVID pandemic)
Portable Lithium Battery (if you want to stayed connected to your devices) at 7$ + taxes per day.
This battery contains 2 AC outlets, 2 USB and also a LED light with 3 different levels. It's easily rechargeable using an AC plug (8 hours, give or take and cable is included) or you can plug it to the car power (takes about 16 hours in movement to fully charge).
Ready to book?